Hello!
I have a traced model (followed the instructions from Imfusion-Inference to trace a pretrained torch model and to write a yaml file). Then I used the Machine Learning → Run ML model where I specified the ocnfiguration file.
As a result, I get the following error:
[ML.MachineLearningModel] Prediction failed: isTuple() INTERNAL ASSERT FAILED at "C:\\Users\\MARCOE~1\\Projects\\imfusion\\EXTERN~2\\pytorch\\_BUILD~1\\pytorch\\aten\\src\\ATen/core/ivalue_inl.h":1101, please report a bug to PyTorch. Expected Tuple but got String
Exception raised from toTuple at C:\Users\MARCOE~1\Projects\imfusion\EXTERN~2\pytorch\_BUILD~1\pytorch\aten\src\ATen/core/ivalue_inl.h:1101 (most recent call first):
0,000,7FF,DB5,214,A6A00007FFDB5213AF0 c10d.dll!c10::detail::LogAPIUsageFakeReturn [<unknown file> @ <unknown line number>]

//some skipped lines

[ML.MachineLearningModel] No prediction was returned.
[ML.Conversion.dataItemToDataList] Ordering should match number of elements in data item.
Algorithm computed in 3.055 s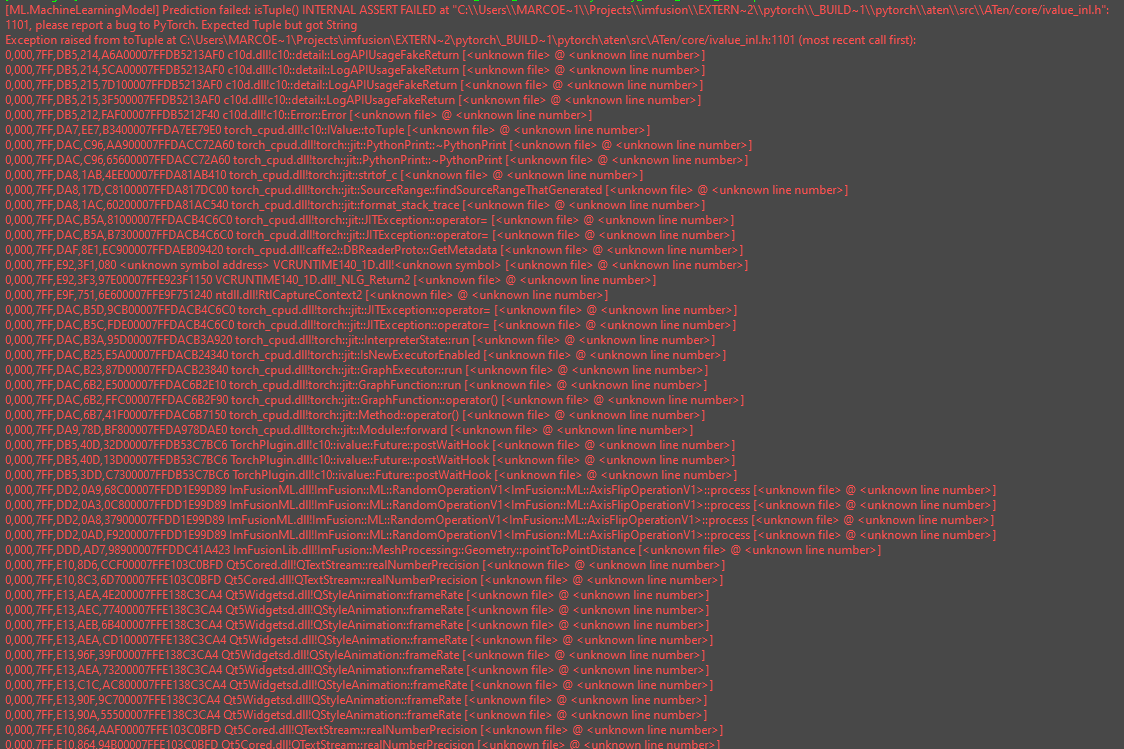 Have you encountered such an error before?
Would be grateful for any hints.
Thank you,
Alex