What is the best way of getting simple meshes for VR?
I've been troubling a bit with outputting good meshes for VR, I usually slim down other models with blender, but the RecFusion output seems very dirty, the mesh is not fully connected, it's full of holes, so when I decimate the holes get bigger with no real reduction in complexity, I attach photos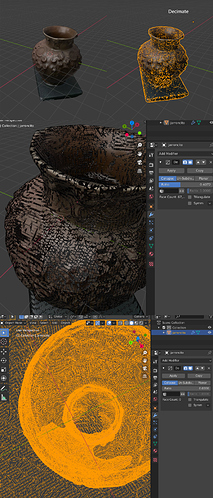 Even when I decimate the object to I still have these edges show up, seem to be remanents of the point cloud
I'm sure there must be a way to get VR ready or at least workable meshes, but I've been playing with the settings with no luck. I would really appreciate some help.
I was able to do something but not much with meshlab, but then I lose the UV mapping and I can't re-texture, I need files that are less than one MB for VR, and I have been getting them in photogrammetry, but there are objects that need infrared light to be legible, that's why I use recfusion, but these models are way, way above that even when very simplified.